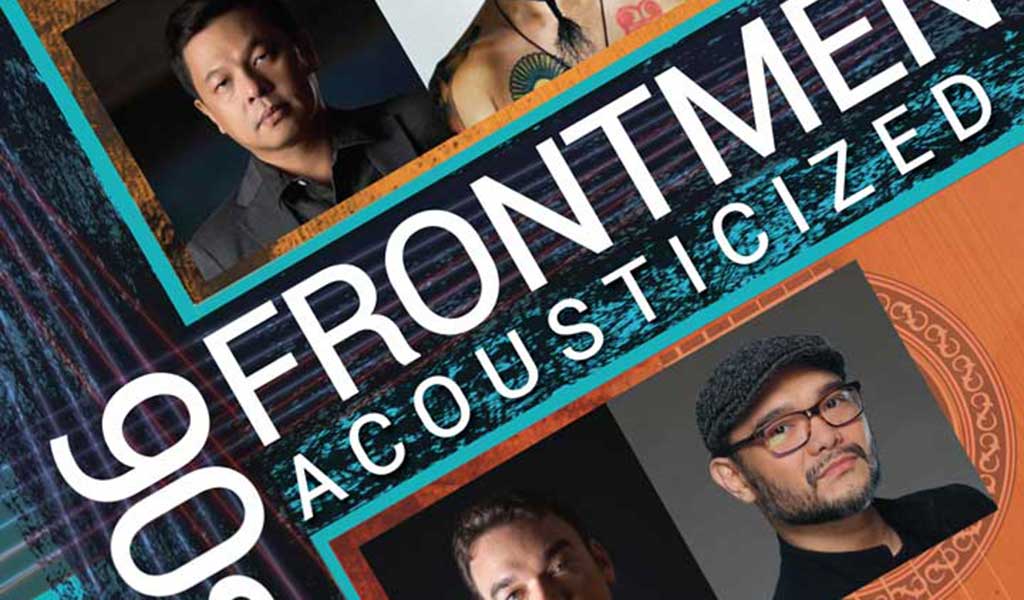 The 90s was a turning point in Philippine music history.
Filipino bands ruled the airwaves, released hit song after hit song and dominated the musical-landscape of the time. Heralded as the most prolific era for bands in the Philippines, the music of the 90s, up to this day, rings loud and clear in the ears of listeners, both young and old alike, bridging the generations.

On January 31 and February 1, 2020, four male vocalists from that legendary period will come together at the Music Museum in a two night, acousticized concert entitled 90s FRONTMEN. Jett Pangan (The Dawn), Dong Abay (Yano), Basti Artadi (Wolfgang) and Wency Cornejo (Afterimage) will be together on stage, for the first time ever, in a show which promises a nostalgic return to the music they created almost 30 years ago. Relive the music of the 90s with the 90s Frontmen.
ABOUT THE 90's FRONTMEN
JETT PANGAN is the charismatic lead singer of long lived, Filipino rock band THE DAWN. The group first achieved success during the late 80s and is considered to be one of the most respected artists in the Philippines. They are known for their hit songs Enveloped Ideas, Salamat, Love (Will Set us Free) and lisang Banka Tayo.
DONG ABAY is the former lead singer of alternative folk/ rock band YANO which was formed in 1992. After breaking up in 1997, the delightfully eccentric vocalist went solo with his group DAMO (Dong Abay Music Organization). His hits from the 90s Banal Na Aso, Santong Kabayo, Tsinelas and Esem are timeless rock classics.
BASTI ARTADI provided lead vocals for the heavy rock band WOLFGANG. Notable for releasing their albums internationally and realizing platinum sales during the late 90s, they came up with hit songs like Darkness Fell, Center of the Sun and the head banging classic Halik ni Hudas.
WENCY CORNEJO is the multi awarded singer/ songwriter and former vocalist of the band AFTERIMAGE. He is the unmistakable voice of gigantic hits such as Habang May Buhay, Next in Line, Mangarap Ka and Tag-ulan. After going solo in 1997, he released several albums in the 2000s and came out with the hits Magpakailanman and Hanggang.