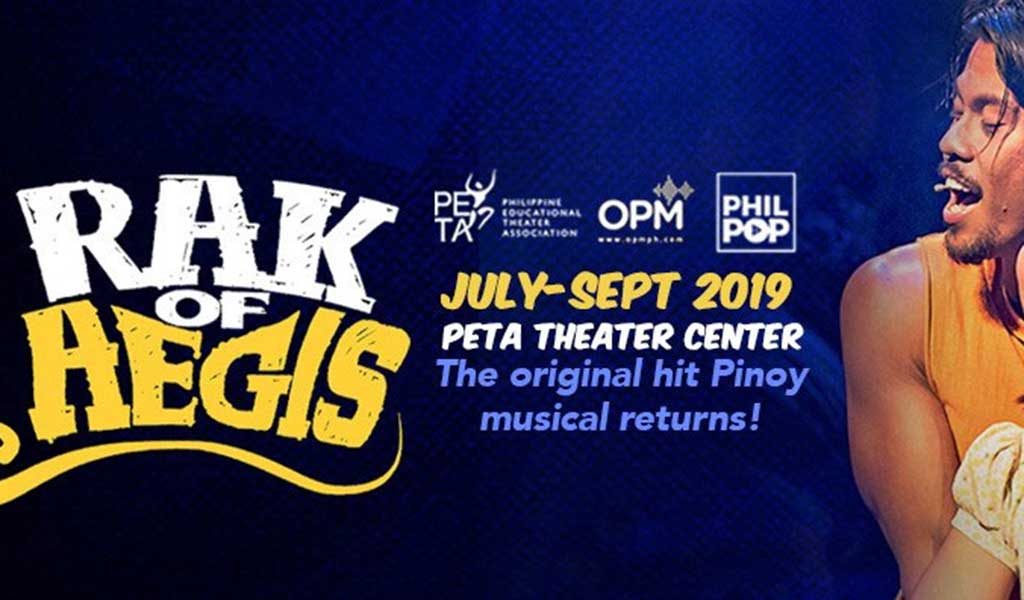 The Original Hit Pinoy Musical Returns. The iconic, Filipino musical phenomenon, Philippine Educational Theater Association's Rak of Aegis makes a much-awaited return from July-September 2019 at the PETA Theater Center in partnership with Organisasyon ng mga Pilipinong Mang-aawit (OPM) and The PhilPop MusicFest Foundation (Philpop).
Since the show opened in 2014, Rak of Aegis has taken Manila, figuratively and literally, by storm! The original Pinoy musical brought one of the greatest OPM icons, The Aegis Band, to the spotlight by featuring their powerful hits and karaoke favorites "Halik," "Sinta," "Basang Basa sa Ulan," and more.
Rak of Aegis was also one of the first Filipino productions which ushered in the trend of jukebox musicals, giving birth to a newfound appreciation for theater and original Pinoy music that crosses all boundaries of social class and age. Today, Rak of Aegis is the longest-running original Pinoy musical in contemporary Philippine theater.
The stellar cast for Rak of Aegis Season 7 is a mix of mostly original cast members: Aicelle Santos and Kim Molina as Aileen; Isay Alvarez-Seña and Sweet Plantado-Tiongson as Mary Jane; Robert Seña and Renz Verano as Kiel; Kakai Bautista and Neomi Gonzales as Mercy, Jerald Napoles, Pepe Herrera and Joshua Bulot as Tolits; Myke Salomon, Poppert Bernadas and Vince Lim as Kenny; Ron Alfonso and Jimi Marquez as Jewel; Gie Onida as Fernan; Gimbey Dela Cruz, Abi Sulit, Gab Pangilinan, Gold Villar-Lim, Teetin Villanueva, John Moran, Gio Gahol, Paeng Sudayan, Roi Calilong and Carlon Matobato as ensemble. Joining them are last season's new cast additions: Shaira Opsimar as Aileen, Rody Vera as Fernan and Matel Patayon as part of the ensemble.
PETA will also soon reveal the new OPM cast members which will for sure add another layer of excitement to the ever-growing Barangay Venezia!