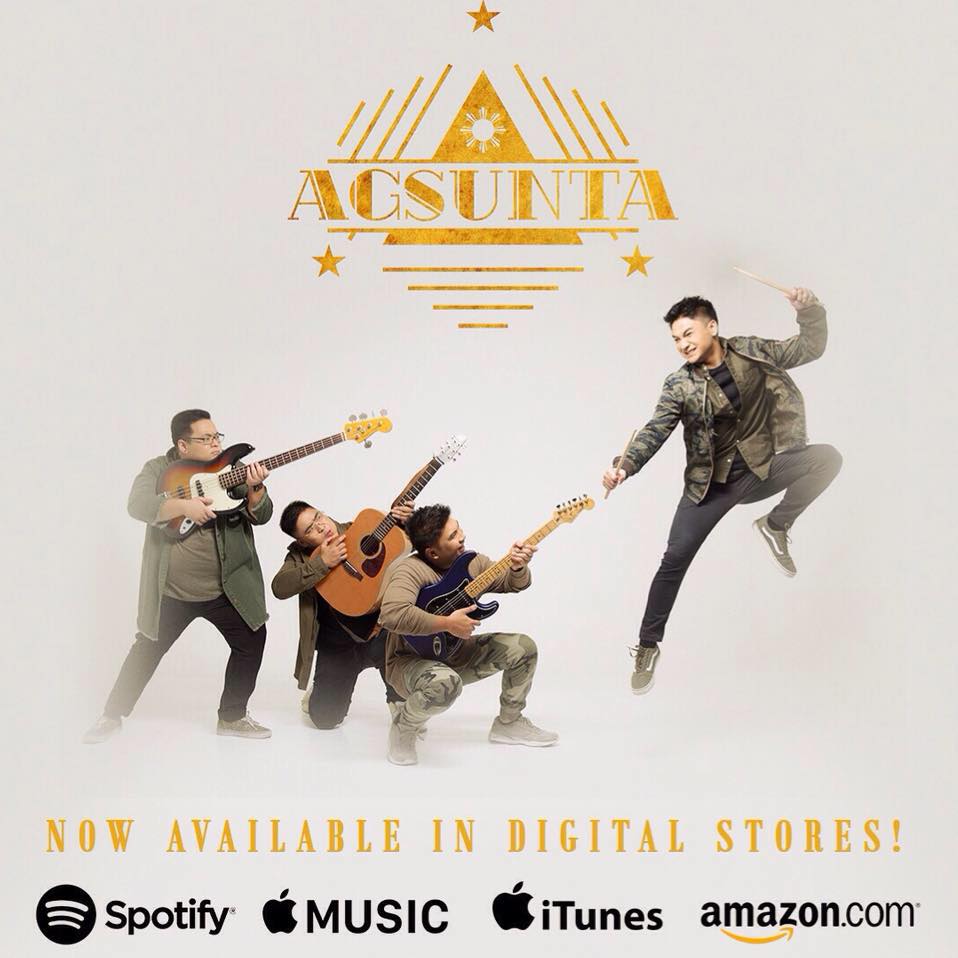 Agsunta is an independent Filipino band popular for its acoustic and soft melodic rock sound influenced by Original Pilipino Music (OPM).
It is comprised of students from De La Salle College of Saint Benilde pursuing degrees in Bachelor of Arts in Music Production.
Agsunta's band members are Jireh Singson (vocals, rhythm guitar, keyboard), Mikel Arevalo (lead guitar, backing vocals), Josh Planas (bass guitar, backing vocals), and Stephen Arevalo (drums, percussion, keyboard, backing vocals).
In just three years, Agsunta has established itself as one of the most promising bands in the Philippines. They have performed alongside renowned bands and celebrities in the country, most recently as featured artists in Alden Richards' recording of How Great is Our God, a track in the AlDub phenomenon's latest album, Wish I May. Agsunta also performed at the 13th anniversary tribute for one of the most respected bands in the country, Mayonnaise.
Agsunta has played in iconic band locales, such as 19 East, 12 Monkeys, 70's Bistro, and Saguijo, to name a few. SM City Manila and SM City San Lazaro of the country's largest retail chain also played hosts to performances of Agsunta so far this year.
Agsunta's first EP, Head Over Heels, was released in January 2015 and garnered positive reviews from peers and fans alike. The album contains three original songs, Fireman, Pinopoly, and Head Over Heels, all of which are available in ITunes and Spotify.
Mass Appeal
In August 2015, Agsunta intensified its efforts to share its music by filming live performances and posting videos of cover songs in Facebook.
Agsunta has popularized #AgsuntaSongRequests since then, a series of video recordings of the band performing OPM songs. #AgsuntaSongRequests has become so popular that the band's social media visibility increased; for instance, Agsunta's Facebook page, which as of this writing has 17,521 fans, gains an average of 180 new likes per day.
Collectively, all of Agsunta's performance videos on their Facebook page have garnered 483,900 views so far. On average, a #AgsuntaSongRequests video attains 20,000 views and reaches more than 87,000 people worldwide.
Agsunta's fan base includes millennials composed of students and young professionals, 72% of which are males between 18 to 34 years old and 27% are females, 18 to 24 years old.
Agsunta's fans are mostly from the Philippines, and a few hundred are from different parts of the world, such as United Arab Emirates, United States of America, Saudi Arabia, Canada, and Kuwait, among others.
Future Endeavors
Agsunta is currently working on their second original EP, which is slated to be released in December 2015. The band is also set to launch its website and new logo in preparation for the release of this EP.
Also in the roadmap is Agsunta's release of live performance videos of their original songs on its YouTube channel, AgsuntaMusic.
Agsunta's current endeavours are: They are now signed with a new management which is PPL entertainment and they are now planning to release an album this 2017.