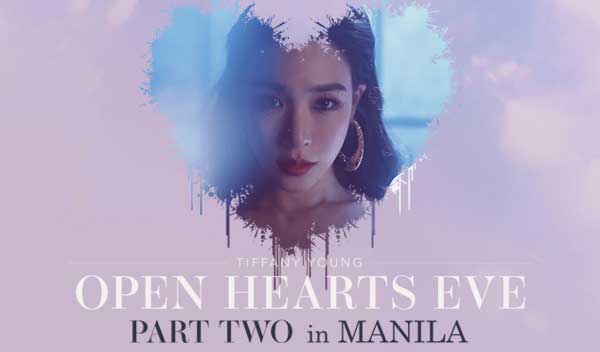 A queen will be coming to Manila to bestow upon us an eve of fierce performances!
Tiffany Young is about to serve vocals at her upcoming Tiffany Young "Open Hearts Eve" Part Two in Manila happening on January 25, 2020 6:30 PM at the New Frontier Theatre.
This event marks Tiffany Young's first solo concert in the Philippines. She's no stranger to the Philippine concert scene of course, having performed in various concerts in the past with her bandmates from Girls' Generation.
Before debuting as a solo artist in 2016, Tiffany Young was first known as a vocalist of Girls' Generation – an eight-member girl group hailing from South Korea who popularized the songs "Genie" and "I Got a Boy" to name a few. After a successful stint with the group that spanned a decade, Tiffany decided to pursue a solo career first in South Korea and later on in the US market.
Her ambitions proved fruitful as her 2016 debut EP "I Just Wanna Dance" peaked at number 3 on the Billboard World Albums Chart. Currently promoting her new digital single "Run For Your life" she has wowed the global stage with her previous EP Lips on Lips and was also awarded the iHeartRadio's Best Solo Breakout Award. After widely successful shows in both Seoul and Bangkok, Manila is one of the next stops as a continuation of her Asia tour.