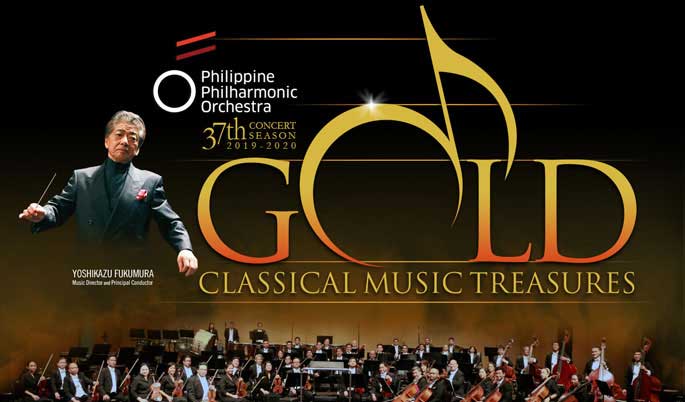 Gold: Classical Music Treasures (2019-2020)
The PPO's 37th Concert Season showcases an outstanding roster of renowned Filipino musicians and international guest soloists that include Noriko Ogawa (piano), Rey Casey Concepcion (viola), Michaël Cousteau (conductor), SORA Ensemble of Japan, Alexa Kaufman (soprano), Aimee De la Cruz (percussion), Adolfo Mendoza (bassoon), Andion Fernandez (soprano), Gerard Salonga (conductor), Ryu Goto (violin), and Ray Wang (cello).
Recognized as one of Japan's foremost maestros, Yoshikazu Fukumura, former music director of the Tokyo Ballet, Kyoto Municipal Symphony, and Nagoya Philharmonic Orchestra, returns to lead the PPO as it continues its trademark excellence with its world-class repertoire that traverses various musical periods from baroque, classical, romantic to modern. Take a look at PPO's wide-ranging gamut of orchestral masterpieces that promises a captivating classical music experience in the season repertoire.