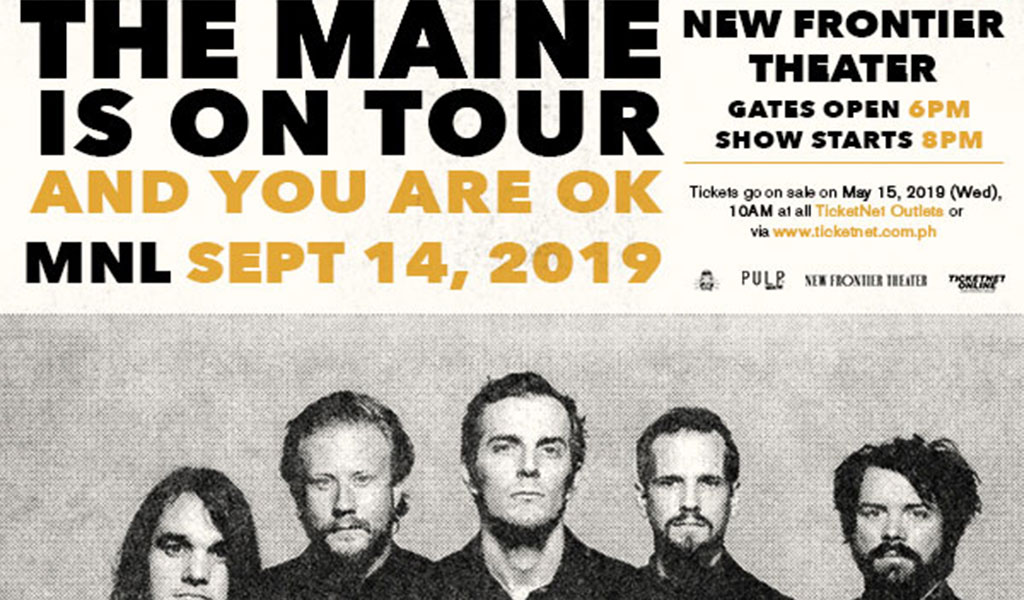 A band called and YOU ARE OK.
PULP Live World is proud to announce that our good friends The Maine will be returning to Manila for their first SOLO show in the country since 2012! The Maine Live in Manila 2019 is happening on September 14, 2019 at the New Frontier Theater.
Since the band's first solo concert in 2012, also powered by PULP Live World, The Maine has consistently been playing shows for their Filipino fans. Twice they've been part of the Bazooka Rocks Festival (Bazooka Rocks I in 2012 and Bazooka Rocks V: A Pop Punk Weekend in 2017). In 2014, they brought their 8123 Tour to Manila, playing alongside This Century and Nick Santino, and in 2015 they shared the stage with All Time Low.
The more they came here, the more their community of Filipino fans grew. This year, following their memorable show in Manila during the Lovely Little Lonely era, The Maine are excited to play us new tunes from their best album yet.
Tickets to The Maine Live in Manila 2019, happening on September 14, 2019 (8PM) at the New Frontier Theater, are priced as follows: P4,000 (Summer Special from May 15 to May 31); P4,500 (Back To School Special from June 1 to June 30); and P4,700 (Regular/Door Price). Only one section will be opened for this show and Meet & Greet slots will be given to early birds while supplies last so BE FIRST! #OneMassivePit
Tickets go on sale on May 15, 2019 at 10AM at TicketNet outlets and online (www.ticketnet.com.ph). Ticketing charges apply.
#YouAreOKMNL #TheMaineInManila2019