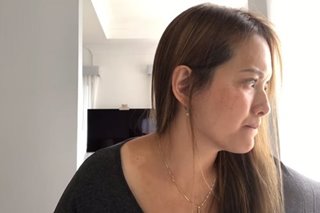 "I was in a very dark place for two years, almost three years. I thought I wasn't going to snap out of it... It was that bad
MANILA — For the first time after resurfacing from a two-year hiatus, former actress Ellen Adarna broke her silence about what she referred to as a "dark" and "traumatic" period in her life while away from the limelight.

Adarna spoke at length about being diagnosed with depression, anxiety, and post-traumatic stress disorder in a revealing Instagram video on Friday.

The deeply personal video, she explained, is the first of two parts about her experience of undergoing mental training in Bali, which she credited for her recovery.

"What led me into that state?" she said, referring to her trauma and depression. "I don't want to talk about it in detail, because it's something very personal."

"So many things happened all at once in a span of four months, or less than four months. Everything happened. All the bad things that I imagined, happened. It was very traumatic for me," she said.

'IF IT'S NOt OKAY, IT'S NOT THE END'

Throughout the 8-minute video, Adarna appeared candid and at certain points pensive about the challenging chapter.

Adarna, 31, pointed out that for most of her life, she was "never really the depressive kind of person," and that she would tend to "bounce back quick" and "move on fast."

"I always had this thing in my mind that everything is going to be okay. 'If it's not okay, it's not the end.' That quote helps a lot. I live by that," she said.

The episode that led to her depression, however, changed things for Adarna, who shared that she went to therapy with two psychiatrists and had to undergo medication.

"I was on a lot of tranquilizers," she said. "My panic attacks were really, really bad, to the point where my body would shake, and then I'd puke. It was so weird."

"At that time, I didn't know what it was, because I never had anxiety that serious. At first I thought I was going to die. Everything was getting hard, my muscles were getting so stiff, and I felt like I couldn't breathe. And then I'd just end up puking," Adarna said.